Cultural project
The metro and bus networks provide a stage for cultural activities in Barcelona.
Commitment to promoting culture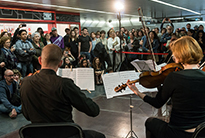 TMB Culture establishes links between the public and the main cultural institutions in Barcelona and the metropolitan area, while making travelling by public transport a more enriching experience. Cultural associations and institutions including the Orfeó Català, the Palau de la Música, the Sónar, Primavera Sound and GREC festivals, the Gran Teatre del Liceu, Taller de Músics, l'Auditori, Swab Stairs, Institut del Teatre, Mercat de les Flors and Central del Circ have used the metro and bus as the backdrop for their shows and productions.
TMB Culture also has three of its own projects firmly established on Barcelona's cultural scene.
Subtravelling Festival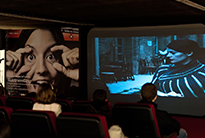 Since autumn 2009 an annual festival of short films has been held on the Barcelona metro. It involves two competitions, the first for the best micro-short film from the main international film festivals, shown on the Mou-TV screens on platforms and in trains, which users can vote for via a website, and the second a competition for short films recorded on mobile telephones inside TMB vehicles and premises. Further information on the Subtravelling Festival website .
Musicians in the Metro project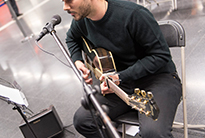 In 2001 TMB and AMUC BCN (the Barcelona Association of Street Musicians), with the support of Barcelona City Council, launched a pioneering project to permit musicians to play at specific indicated locations on the metro network, setting a worldwide lead. The annual Musicians in the Metro festival is a marathon series of concerts given mainly by the musicians who regularly play at specific locations on the metro network.
Buskers must first audition to obtain the AMUC BCN card which allows them to perform on the metro network. Over 600 musicians have signed up under this regulated system.
The project has grown year-on-year to encompass activities including exhibitions, international competitions and collaborative events with other metro networks around the world.
On-line short story competition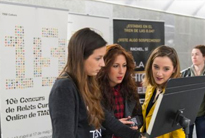 The On-line Short Story Competition is an annual meeting point for literature lovers. The event brings together writers whose stories are based on journeys on public transport, combining imagination, creativity, experience, and, above all, a love of writing. This web 2.0 initiative has received the support of important writers such as Màrius Serra, Emili Teixidor, Matilde Asensi, Maruja Torres, etc., who have also shared their stories. If you like to write and read new stories, this competition is for you!. Further information on the Relats Curts website.