Get moving against cancer 2011
TMB was involved in helping cancer sufferers and their families.
The first cause chosen by TMB's employees, in 2011, was the battle against cancer. The campaign "Get moving against cancer. You can help" was organised in partnership with the main organisations involved in fighting this disease.
Partner organisations
This project was carried out in partnership with a number of organisations working to combat cancer:
October: care for yourself and get healthy
Octubre: estima't i fes salut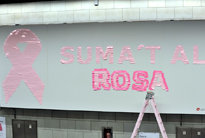 Tuesday 11 October, Diagonal station (lines 3 and 5)
Handout of fruit and information on healthy lifestyles by volunteers from the organisations involved in the project, with the aim of encouraging people to eat fruit, coinciding with European Week against Cancer.
Wednesday 19 October, Passeig de Gràcia station (line 2)
Art in progress event
The Art in Action event was held to celebrate International Breast Cancer Day. It involved building an enormous pink bow out of post-it notes on which the public wrote their thoughts about cancer.
November: cancer can be cured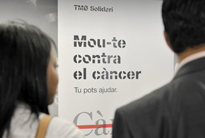 Sunday 6 November
TMB's athletics group, employees and their families took part in the 7th Women's Race, a popular event held to raise awareness of breast cancer and raise funds for the Spanish Cancer Association.
Wednesday 23 November, Sagrera station (line 9)
Event to inform public transport users about bone marrow donation entitled "Charitable to the marrow", organised by volunteers from the Josep Carreras Foundation.
December: children and teenagers can get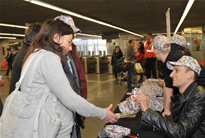 To 14 December
TMB volunteers sold caps provided by AFANOC, the Catalan association of friends and family of children with cancer, at 28 distribution points in work centres and Punt TMB information and customer service centres.
Wednesday 14 December
Special Bus Turístic service for school children. Visit to the Casa de Xuklis refuge for children with cancer, where the children were met by magician El Mag Lari. El Mag Lari later that day signed caps in the lobby of Universitat metro station.
Saturday 17 December - Put your cap on at Barcelona zoo
Support for the Put your cap on event at Barcelona zoo
From Monday 12 December on the TMB website
Charity Christmas card campaign: collecting donations in exchange for a card designed by employees' children in aid of the AECC and FECEC associations to combat cancer.