Get moving for children's rights 2015
TMB is joining the organisations that work to guarantee children's rights.
"Get moving for children's rights" was the cause chosen by TMB employees for 2015, as part of the social action project TMB Solidarity. A series of events focused on children and their rights had been organised for the last quarter of the year. At the same time an awareness-raising campaign was launched in aid of the collaborating organisations: UNICEF and Casal dels Infants.
The United Nations drew up an international agreement, the Convention on the Rights of the Child, which was adopted on 20 November 1989 and marked a huge step forward, as, for the first time, as single document included the specific needs and rights of children, binding the states that ratify it.
View the video for the "Get moving for children's rights" campaign on the TMB YouTube channel.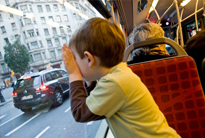 Tuesday 13 October, in the metro
To get the campaign under way metro passengers heard information on children's rights, announced by children, to raise awareness and prompt action.
Thursday 22 October, from 10.00 am to 12.00 noon at the Espai Gaudí
The Espai Gaudí was the venue for an information-training session by specialists from the Casal dels Infants and UNICEF.
From Monday 16 November, in Diagonal station
From 16 November to 31 December, in the Diagonal station transfer hall (L3-L5), a photo exhibition entitled "Nosaltres els infants volem dir-vos algunes coses" (We, the children, want to tell you a few things) provides a graphic reminder of children's rights.
Friday 20 November, Plaça de la Universitat
Coinciding with Universal Children's Day, on 20 November the main campaign event took place: a trip on sightseeing buses with a performance by the "capgrossos" of the Raval giants group and other supporters. The trip ended in Plaça de la Universitat, with a symbolic ceremony.
Thursday 10 December at 11.00 am, in Universitat station
The campaign closed on 10 December with a show by an illusionist and metro employee – organised by the collaborating organisations – for children's groups and the families of TMB employees.
Collaborating organisations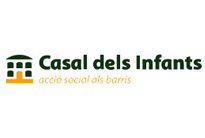 Casal dels Infants
El Casal dels Infants is a volunteer association that acts in neighbourhoods alongside children and young adults to achieve improvements in their development and immediate environment. It is a group project based on generating undertakings and involving the public to respond to social needs in areas with the largest number of cases of exclusion.
UNICEF Logo
The United Nations Children's Fund (UNICEF) is the principal international organisation working to promote children's rights and change the living conditions of millions of children. Its mission is to foster and protect the rights approved under the Convention. The Spanish Committee for UNICEF is one of 36 national committees that contribute to the work undertaken by UNICEF.